DEBCC BUSINESS BEACON #8
DEBCC Business Beacon
Issue #7 | May 2021
From the President's Office
Dear Members, Neighbors, and Friends,



As we enter the month of June, and welcome the start of Summer, we also reach the midpoint of 2021. The State of Delaware, and across our country, economies continue to reopen, and we look forward to our many opportunities to advance Delaware's economic footprint.We have many exciting announcements this month. We also enter a brand new chapter in DEBCC history, as our organization continues to grow, along with you, our valued members, who remain the heart and soul of all we do.

Our world may have changed, however our commitment to you, and to our business community has not. Collectively, we are better together - thank you to ALL of our valued members. Onwards and upwards we go!

Warmest regards,
Ayanna Khan
Chief Executive Officer
Longwood Foundation Awards DEBCC $250,000 Grant to Support Operations, Programming, and Expansion
We are proud to announce that the DEBCC has been awarded a $250,000 grant from the Longwood Foundation, which is earmarked to support our organizational expansion, infrastructure, communication, member services, and DEBCC programming. These funds will significantly help us grow our programming reach, support communications, membership development, and importantly, grow our programming in the areas of community leadership, financial literacy, and workforce development, as well as enable DEBCC to provide greater resources for the State of Delaware. We would like to extend our heartfelt thanks and appreciation to all who worked long and hard to help make this happen – and we look forward to delivering many outcomes statewide as a result!

DEBCC and New Castle County Government Announce Partnership to Distribute N95 Masks and Provide Resources to Startup Businesses

DEBCC and New Castle County Government have announced a significant partnership to distribute 500 N95 masks, as well as provide resources, including support to acquire funding, for area entrepreneurs and startup businesses.We are thrilled to announce this partnership. This will get badly needed PPE out to the community as our economy continues to reopen. Additionally, we are extremely excited to be partnering to assist area entrepreneus and local startups. Many have been displaced due to the economic effects of the pandemic, and this partnership will provide support and resources for those entrepreneurs who are launching startup businesses to supplement or replace their income.

New Castle County is proud to play a role in the Delaware Black Chamber of Commerce's mission to keep Delawareans safe from COVID-19," said New Castle County Executive Meyer. "We look forward to partnering with the DBCC and furthering the mission of ensuring minority and other disadvantaged entrepreneurs are not left behind due to a lack of support.
DEBCC Spring Forward Fundraiser A Huge Success!
Our Spring Forward Fundraiser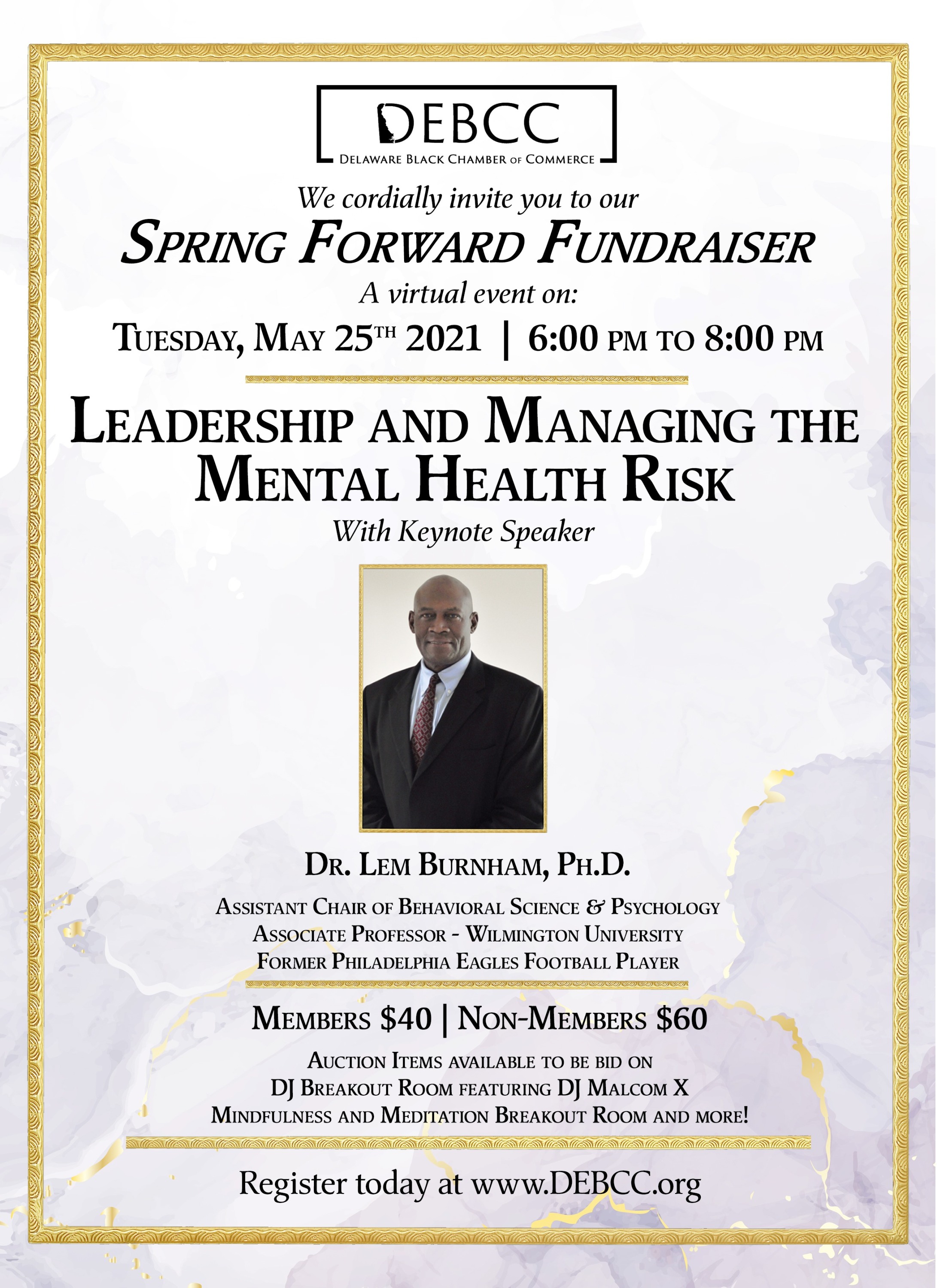 was an amazing success for all who attended and participated. What a night it was!Dr. Lem Burnham from Wilmington University had the most open and honest conversation we've heard on a public platform on mental health and leadership.
We were all dancing in our seats with the tunes, the auction items room was fantastic, thanks to our bidders, the trivia rooms were fun, and special
congratulations
to our award recipients.
Special shout out to The Dames Group and team for executing a successful event. Can't wait for our next event and seeing everyone in-person. And remember managing your mental health is self-care.
Welcome New Members!
Join us in welcoming the following businesses who have become DEBCC Members in the past month:
Dover FCU
FoppishLiur LLC
J E Associates
Marlo Tha Jeweler
Ruggerio Willson and Associates
Socallova LLC
Please Join Us!
Become a member today and let's work together to advance our economic footprint in Delaware during these unprecedented times. Sign up for our events and membership today!