DEBCC BUSINESS BEACON #3
DEBCC Business

Beacon
Issue #3 | January 2021
From the President's Office
Dear Members, Neighbors, and Friends,



Happy New Year!As we welcome 2021, I want to take this opportunity to thank you for being a part of our growing community. Despite the difficulties that 2020 presented, we collectively overcame them, and have much to celebrate, with our successful launch this past year.

We are strongly positioned to make 2021 a banner year. We have many exciting events in the works for our members and for the community. Additionally, we are looking forward to presenting more opportunities for our members in 2021.

Our resolve to advance our economic footprint in Delaware has never been stronger. In this edition of the Business Beacon, we reflect on our progress in 2020 as we look forward to forging our path as we begin 2021.

Onward and upward,
Ayanna Kahn
Chief Executive Officer

2020 Highlights

We closed out 2020, and the past 3 months in business, with 136 individuals that trusted us with their business. We appreciate each and every one of you!
We secured a partnership with the State of Delaware Division of Small Business.
We helped 60 businesses apply for the DE Relief Grant.
Within the first 30 days of launch, we presented 2 minority businesses in the hospitality industry $2000 each.
Delaware Business Times was our first 2021 Grand Level Sponsor.
We secured United Way of Delaware as our fiscal agent and a solid supporter of the DEBCC.
We created strong partnerships with SCORE Mentors Delaware, the U.S. Small Business Administration, and the SBDC in order to provide additional resources to our members.
We look forward to an even greater 2021. Much more to come!
Inaugural Fundraiser
We are proud to have had the entire Delaware Delegation in attendance at our fundraiser. We also had an amazing speech from our keynote speaker, Congresswoman Lisa Blunt Rochester. While the ongoing challenges of the pandemic kept us in continuous uncertainty, we moved forward to a virtual event, and our inaugural fundraiser was a tremendous success.

W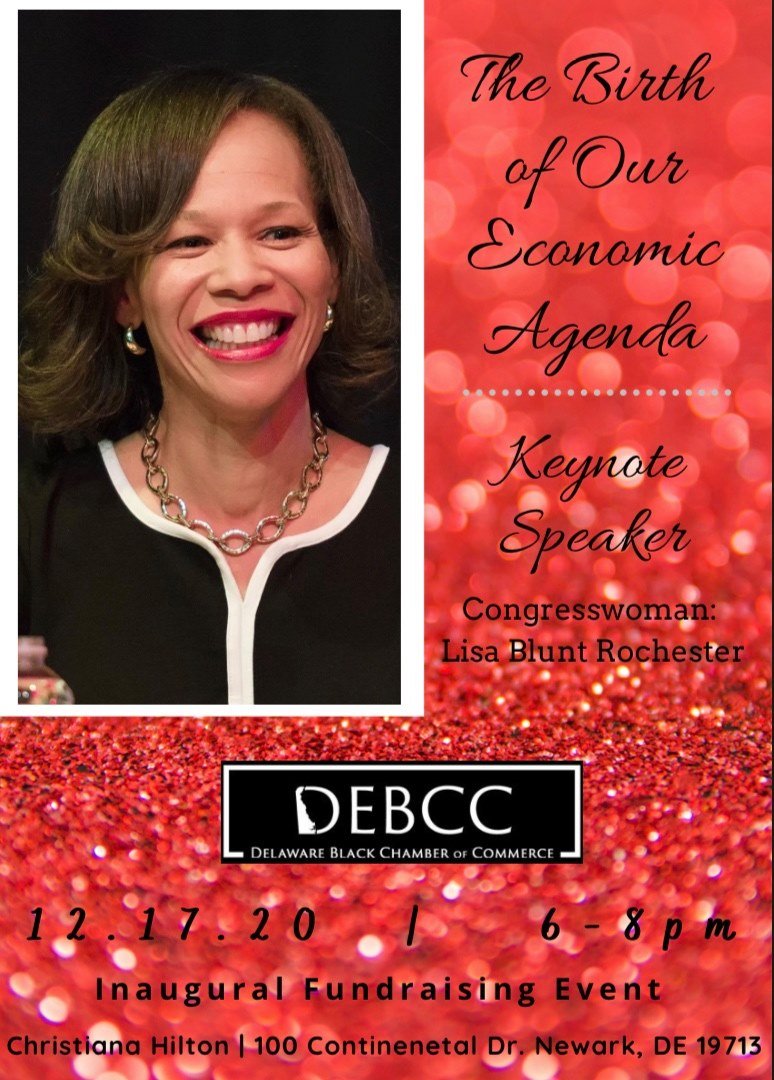 e give our heartfelt thanks to our sponsors: Delaware Business Times, WSFS Bank, Women's Business Center at True Access Capital Delaware, Division of Small Business and Lafate Gallery. Because of you – we exceeded our fundraising goals! You made it all possible!We have some amazing events lined up for this month. Please check out our events at Calendar - Delaware Black Chamber of Commerce (debcc.org). We look forward to announcing more exciting events in 2021 in the not-too-distant future, and we look forward to the opportunity to gather and network in person.

More announcements and details on upcoming events are in the works and are forthcoming. Stay tuned!
The Edge Grant

The 3rd round of the Edge Grant will be relaunching soon.
Look out for the info session!
Welcome New Charter Members!
Join us in welcoming the following businesses who have become DEBCC Charter Members in the past month:
Allow Me Errand Service, LLC
Avenue 121
Corner Boys to Career Men Inc
DANA, the Delaware Alliance for Nonprofit Advancement
Delaware Business Times
Direct Flooring Inc
Financial Power Consulting Services LLC
Guaranteed Rate
Harriet Tubman Safe House
Morningside
Need It Now Business Services Inc
Pastor Andrew Williams
Perry And Associates Services Inc.
R. R. Ventures Associates, LLC.
SIR CONSULTING LLC
The Growth Coach of Northern Delaware
Village Education Tutors
Village Education Tutors Foundation
Please Join Us!
Become a member today and let's work together to advance our economic footprint in Delaware during these unprecedented times. Sign up for our events and membership today!