DEBCC BUSINESS BEACON #2
DEBCC Business

Beacon
Issue #2 | December 2020
DEBCC In The News

DEBCC President and CEO, Ayanna Khan was featured and interviewed on IN Focus with Yesenia Taveras. If you haven't had the opportunity to watch the episode, you can check it out here: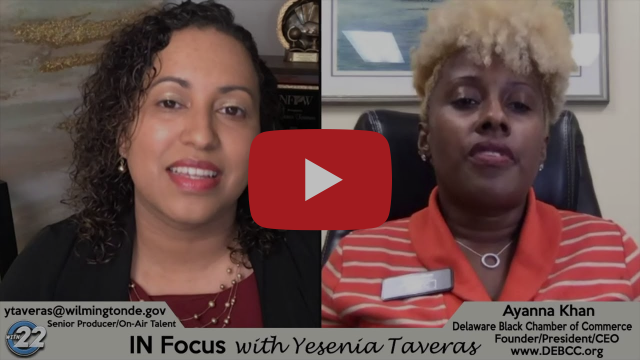 From the President's Office
Dear Members, Neighbors, and Friends,



As we begin December, we reflect on the challenging year of 2020, we look forward to the much-needed comfort and joy of the holiday season, and to the promise of an exciting New Year ahead!At the Delaware Black Chamber of Commerce (DEBCC), we continue to do our part in changing the economic footprint for minority-owned small businesses in the First State and beyond. The Chamber remains a solid voice for the minority-owned business community while continuously refocusing its efforts to meet the ever-changing needs of our growing membership.

We are proud to be working with you, and for you, as we advance disadvantaged businesses and make a positive impact on our community.

In this edition of the Business Beacon, we shine a light and look forward to sharing our recent shared successes, upcoming fundraising event featuring Congresswoman Lisa Blunt Rochester, we welcome our new members, and we look forward to forging our path into 2021.
Inaugural Fundraiser Banquet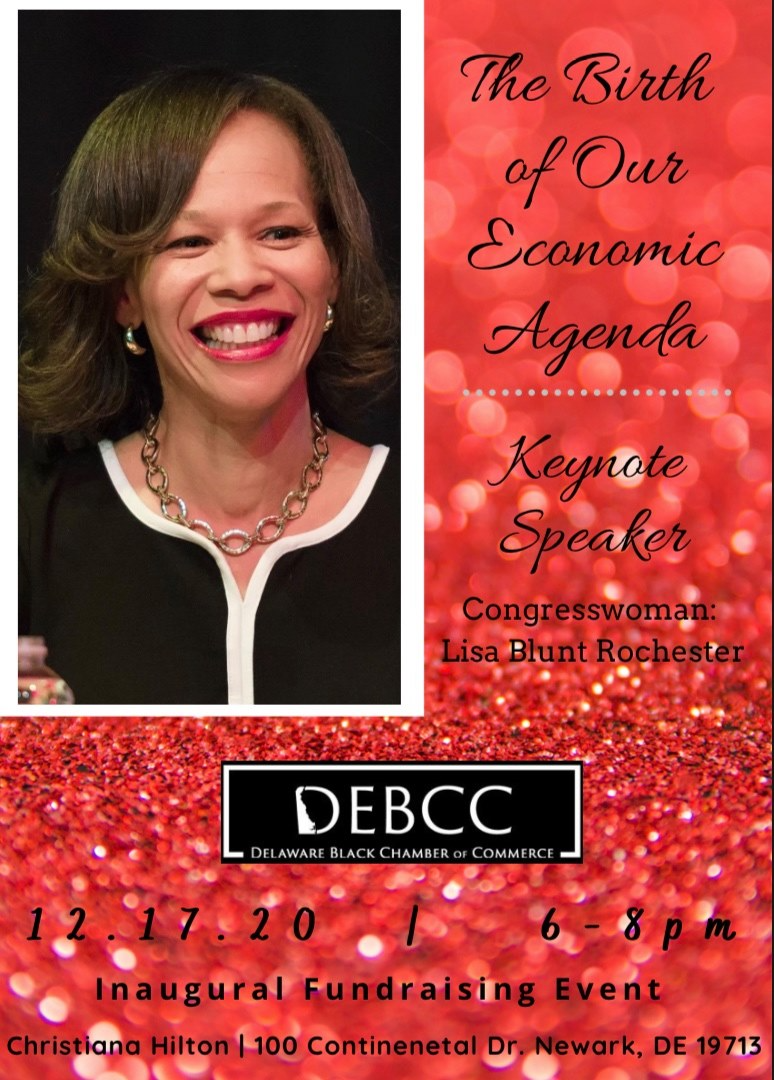 Join us on December 17th for our (hybrid) Inaugural Fundraiser Banquet with the Honorable Lisa Blunt Rochester as our keynote speaker. Congresswoman Blunt Rochester will be speaking on the "Birth of Our Economic Agenda".Please stay tuned as additional surprises are announced!
As we will be following the Covid-19 capacity gathering guidelines that the Governor has put into place, this will be a hybrid event. Please visit DEBCC.org for the latest updates and to register for this exciting event.
The Landscape of Capital
Did you know?

83% of entrepreneurs have no access to bank loans or venture capital at the time of startup. Prior to COVID-19, new Black-owned businesses started with 3x less in terms of overall capital as compared to new White-owned businesses. Men were 60% more likely to secure funding than women when pitching the same business.

We hope you were able to join us for our ACCESS TO CAPITAL webinar facilitated by the SBA. This was one of five (5) seminars held in the past month, with many more to come. We look forward to seeing you at one of our many seminars and networking events in the coming year!
State of Delaware & DEBCC
Announce Partnership

The State of Delaware and the DEBCC have joined forces in partnership to help DEBCC members apply for the Delaware Relief Grant. In the month of November, the DEBCC has assisted over 38 member businesses and, counting, to successfully apply for the Delaware Relief Grant. The partnership has also received a ringing endorsement from Governor John Carney!
Welcome New Charter Members!
Join us in welcoming the following businesses who have become DEBCC Charter Members in the past month:
1st Impressions Barber Shop
Guy & Lady Barrel LLC
Cachos Brazil Hair Care LLC
Joy's Hair Boutique
Taxes and More, LLC
HOPE REALTY
Acumen Real Estate Partnership
J2j Services Inc
The Riverview Salon and Boutique
MOTOMOTO KITCHEN
Cammy Saunders
Lincoln Heritage/ The Ali Group
LG Consulting Group LLC
First State Hood & Duct
Delaben Investment and Real Estate, LLC
IM#84 Sports, LLC
Rhythm and Fitness LLC
Curucaye, LLC
Livingston Worx, LLC
Akaiso Group LLC
FATIRA HAIR BRAND INC
Atl Pro Landscaping Services LLC
KIMA MEDICAL BILLING SERVICES LLC
Kiara Moore Therapeutic Services
Que Atelier Salon and Spa
Translog LLC
State of Delaware Division of Small Business/Office of Supplier Diversity
TRU CONSULTING GROUP
Central Delaware Chamber of Commerce
U.S. Small Business Administration, Delaware Office
Delaware Prosperity Partnership
Genesis Billing Services LLC
Thomas Harris Insurance Agency Inc
The Ascendant Group
TransGen Energy INC
Paradigm Sports Bar
Mashiya Williams
P.V.O. Brand (Positive Vibes Only)
Monica Peterson - Real Estate
Stop the Violence Coalition Inc. / Academy for Peace
Professional Tailor Shop
Thomas Clinical Consultation Services, LLC
Lafate Gallery
AYB Investments, LLC
Rise to Success Educational Services
Jeter & Company, LLC
S.W.E.L.L. for Women
Please Join Us!
Become a member today and let's work together to advance our economic footprint in Delaware during these unprecedented times. Sign up for our events and membership today!