DEBCC BUSINESS BEACON #10
DEBCC BUSINESS BEACON #10
DEBCC Business Beacon
Issue #10 | August 2021
From the President's Office
Dear Members, Neighbors, and Friends,



Happy National Black Business Month!As we enter the final full month of Summer 2020, we hope that you have been able to take some time to enjoy the warm weather, take some vacation time with family, friends, and loved ones, as well as enjoy the many things that our local minority-owned businesses have to offer across Delaware.

As our world continues to change, we remain focused on our changing economy, and we remain focused on advancing Delaware's economic footprint, and delivering support, programs, and value for you - our valued members. You are always at the center of all that we do.

We have many exciting announcements this month – including relocating to our new offices in Wilmington, new and exciting programs and member offerings, and our First Anniversary Celebration. We will look forward to your celebrating with us come September.

Quite simply, we are able to serve Delaware's business community due to your continued support. We thank you for your membership, your participation in our business community, and for all the great things we, together, make happen across the First State.

We thank you for your continued support. Together, we are stronger!

Warmest regards,
Ayanna Khan
Chief Executive Officer
Peace On The Streets!
Each and every child in Delaware is our future as a State. We cannot afford to lose a single child due to ill-health, under-education, abuse, addiction, jail, or gun violence. Delaware's highest goal should be for every child to grow up to be a successful young adult -- healthy, educated, free, secure, and a good citizen. Join us for Peace On The Streets — Saturday August 7th, from 10am to 5pm at Brown-Burton Winchester Park in Wilmington. Lift up your voice with us. Because together, we are stronger!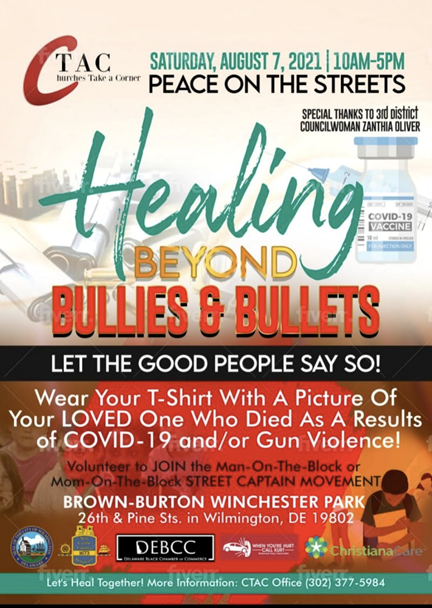 United Way of Delaware
- $tand By Me Grant Receipients.

Congratulations to DEBCC Member Elite Feet – United Way of Delaware $Stand By Me Grant Recipients!

DEJA 4th Annual Freedom Gala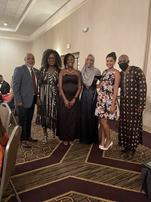 Last night we had the honor of attending DEJA 4th Annual Freedom Gala hosted by Dezzie from Reach Gospel Radio.

Thanks to Representative Franklin Cook for the invite, and for all the introductions. We are looking forward to collaborating with the Delaware Juneteenth Association in the coming years.


"No one is free until ALL people are free" - author unknown.

Club Pilates

We had the honor of doing a ribbon cutting for our member
Club Pilates
. This is a family business building generational wealth with a 22 year old co-owner. Go visit them for a low impact full-body workout.
Thanks to the state representatives and commissioners that showed up to support this business because it does take a bailable to grow a small business. Special thanks to New Castle County Government for providing Club Pilates with a proclamation. Congratulations Greg and Ayanna!
DelCare Health Solutions, LLC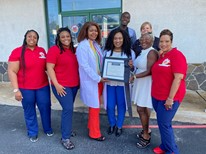 We had the honor of doing the ribbon cutting for our esteem members at DelCare Health Solutions. They bring to you a new primary care for everyone in and around the Wilmington area.Thanks to Matt Meyer and his team as well as the Lt. Governor Bethany Hall-Long for supporting small businesses in our community. Thank you also to DETV for coming out and covering!
Mark Your Calendars - Upcoming Events!
EnrichDelaware! Open House Wednesday, August 11, 2021 (12:00 PM - 1:00 PM) (EDT)
The DEBCC has partnered with Interise, a national not-for-profit with award-winning small business programs, to offer EnrichDelaware! What you will learn: Business development strategies Strategic planning Finance and financial management Marketing/sales Human resources Accessing capital Contracting with the government & major corporations.
EnrichDelaware! Open House - Delaware Black Chamber of Commerce (debcc.org)
DEBCC Event - Facilitated by The Home Base Group - Purchasing and Selling Real Estate Thursday, August 26, 2021 (4:00 PM - 5:00 PM) (EDT)
Come join us as Neil and his team explains purchasing and selling real estate and about the pre-approval and mortgage process. (On Zoom)
DEBCC Event - Faciliated by The Home Base Group - Purchasing and Selling Real Estate - Delaware Black Chamber of Commerce
Coffee and Muffins with Matt Meyers and Kathleen McGuiness (Members Only) Tuesday, August 31, 2021 (9:30 AM - 10:30 AM) (EDT)
Come and join the DEBCC as Matt Meyers, County Executive and State Auditor Kathleen McGuiness comes and speaks to our members.
Coffee & Muffins with Matt Meyers and Kathleen McGuiness (Members Only) - Delaware Black Chamber of Commerce (debcc.org)
DEBCC ONE YEAR ANNIVERSARY CELEBRATION DINNER Friday, September 17, 2021 (6:00 PM - 9:00 PM) (EDT)
Come join us as we celebrate our One Year Anniversary. Early bird special $80 per ticket until August 17
th
DEBCC ONE YEAR ANNIVERSARY CELEBRATION DINNER - Delaware Black Chamber of Commerce
Welcome New Members!
Join us in welcoming the following businesses who have become DEBCC Members in the past month:
She's Filming Production Company LLC
YMCA of Delaware
Town of Middletown
Heart Full of Soul
KRN Architecture LLC
TEP Consulting Solutions, LLC
The Whiting-Turner Contracting Company
Kool Kolored Kid Generation LLC
Pretty Moody
Cool J's
C.O.R.E. Professional Consulting LLC
Resh
Ambiance Created LLC
Top Choice Trucking LLC
GREATER WORKS COMPANION CARE LLC
Just P.L.A.Y.
T3I Sports LLC
World Trade Center Delaware
Lee's Landscaping LLC
What Our Members Are Saying!
"Hi Jennie,
Thank you so much for taking the time out to help me with the website issue. I wanted to follow up and let your organization know how we are doing since becoming members Of DEBCC.
About a year ago a light bulb moment happened where we wanted to take our "small business" to another level. We had just been certified with the EMSDC but wanted to gain more exposure and knowledge here in our community. After a few google searches, I found out about DEBCC and signed up the same day. I was a little skeptical at first because I thought that this would just be another "badge". Would we really gain anything from being a member?
Well, we soon discovered that being a member of DEBCC meant resource and information overload (in a good way)! We started receiving frequent emails with a great deal of information I didn't know existed for "small businesses" like us. For a few months I passed over email after email intimidated by all of the information. Years ago, I reached out to several agencies for help on how to expand our company and secure capital only to be told we didn't qualify for whatever reason. That feeling of being disappointed overwhelmed me so much that I ran straight towards it!
At the top of the pandemic, I didn't know where to turn and an email popped up from DEBCC about PPP loans for small minority owned businesses. Since then, we have secured 2 , started the forgiveness process and we were able to pay our employees and keep operating. I have sat in on several webinars to streamline the PPP forgiveness process, others that pertain to business management and resources offered by the SBA.
We received an email from DEBCC with information from the Delaware State University for EDA Cares Act Recovery Assistance Program on How to Make Your Business Successful Online. We signed up and we were picked to receive a whole new website that should be up and running very soon!
We became so motivated that we also signed up and were picked to be a part of the DBE Academy sponsored by DelDot. This program has assisted us in restructuring our business practices, policies and becoming HR certified to conduct business on a federal level. We are currently finishing up our DelDot certification application. The goal is to get our business in shape for federal contracting. I am taking the aPHR exam this week and on Thursday the Project Management Course kicks off to become CAPM certified. We meet (via zoom) every Tuesday with 10 other businesses.
Another email from DEBCC would lead us to a program to help us in the finance department. We signed up and we were picked to be a part of $tand By Me, a program of the United Way of Delaware and the DE Department of Health and Social Services that provides free, confidential financial coaching for individuals and small businesses. This program has also been a game changer as we get to pay close attention to what is coming in and what is going out. Our coach meets with us weekly or biweekly (via zoom) to discuss our short- and long-term financial goals. We are required to track expenses and complete a monthly budget. We have also started looking into retirement options and we may receive a grant upon the completion of the program next February. -Our company is being featured to show the sponsors that the program is doing great things!
Another opportunity we found out about through DEBCC was the Division of Small Business DE Relief Grants program. This program gave us access to funds to cover expenses and provide relief related to COVID-19 .
Becoming a member of DEBCC has been an awesome experience! To the emails, the resources, and the overall interest that this organization has for business owners like us is immense. We will continue to take advantage of the countless opportunities that come our way and thank you for caring about the survival and growth of our businesses."
Warmest Regards,
Cicely Hoey
Direct Flooring Inc."
"Greetings:

I wanted to take this opportunity to tell you how appreciative I am for the formation of this organization. Since becoming a member of the Delaware Black Chamber of Commerce in November 2020, my business has been afforded so many opportunities for growth and expansion. Beyond the networking and connecting with state officials, the education I have received as an entrepreneur has been unmeasurable. The insight I have received from the various hosted webinars has helped me lay a strong foundation for my clinical practice, Thomas Clinical Consultation Services, LLC. I have been in awe of the connectivity of this organization from the onset of my membership and wanted to afford this opportunity to all my fellow small business entrepreneurs of color. I look forward to my continued engagement as a valued member as the organization continues to grow and provide a space for all disproportionate and small businesses across the state of Delaware. Thank you, Delaware Black Chamber of Commerce, for being the game changer in my business development!"
- Shawnisha Thomas, LPCMH
Thomas Clinical Consultation Services, LLC
(T2C Services)
Please Join Us!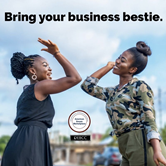 Get your business bestie and join us next month for National Black Business Month. 20% off of all membership for the month of August - use code BBM2021.
Become a member today and let's work together to advance our economic footprint in Delaware during these unprecedented times. Sign up for our events and membership at
https://debcc.org
.