DEBCC BUSINESS BEACON #1
DEBCC Business

Beacon
Issue #1 | November 2020
From the Presdient's Office
Dear Members, Neighbors, and Friends,



At the Delaware Black Chamber of Commerce (DEBCC), we are driven to do our part in changing the economic footprint for small businesses in the First State and beyond. The Chamber remains a solid voice for the Black business community while continuously refocusing its efforts to meet the ever-changing needs of its members.It's more than a business as usual membership organization. It's the best friend and partner of its members, working exclusively on their behalf and providing the assistance and support they need. We strive to build productive relationships and make a positive impact with all of our members.

We are proud to be working with you, and for you, as we advance disadvantaged businesses and make a positive impact on our community.

This is the premier edition and launch of the DEBCC Business Beacon, and we look forward to sharing our recent shared success stories since our launch, and look forward to making several new announcements in the days and weeks to come.
Grant Award Winners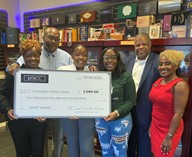 We had the honor of awarding E Squared Cigar, a small minority family owned business with a $2,000.00 grant. Fun fact: E Squared Cigar is the first and only black owned cigar lounge in the entire state of Delaware. This family business made it through the pandemic without any federal bailout - all because of their loyal customer base. We love them and their story! We are closing the wealth gap one business at a time!

We also had the honor of awarding and presenting a $2,000.00 grant award to Trini Quizeen from the Delaware Black Chamber of Commerce. This grant award will help them sustain their business in these unprecedented times.Warmest
congratulations
to our grant award winners!
Sign up for our events and membership at
https://debcc.org
to be included in these funding opportunities.
Backing Black Businesses Webinar
If you missed the webinar on Backing Black Businesses, here's the recap. You can also apply for the pitch competition via this link: ‪https://lnkd.in/d8-DaFX
Welcome Staff and Interns
Join us in welcoming Marcus Johnson and Jenn Hott!
Marcus Johnson
Marcus comes to us from Delaware State University. He is a native of Washington D.C, and currently a senior in the works of receiving his bachelor's in Social Work.Aside from his educational background, he is also artistically inclined. He is a professionally trained ballet dancer as well as a professionally trained opera singer.
Jenn Hott

We are pleased to welcome Jenn Hott, who has joined out team as Executive Assistant!Jenn joins us after previously managing office duties for another local chamber.
Fun fact – Jenn is also a band member for the Baltimore Ravens NFL Marching Band!
Welcome Charter Members
Join us in welcoming the following businesses who have become DEBCC Charter Members:
SEJ FINANCIALS LLC dba Liberty Tax Services

Outsourced Development Services

Pneuma Capital Group

Just Getaway2Day Inc

Married to the Ring LLC

Watchful Eye Security, LLC

Prominent Insurance Services

New Castle Insurance

Cradles to Crayons

Delaware State Chamber of Commerce

SCORE Delaware

United Way of Delaware

Michelle Taylor

Virtual World Execs, Inc.

Dixon Development Enterprises, LLC

Edwards' Wellness & Skin Care Facility

Velvet Cakes by Gwen LLC
Eunity Solutions, LLC

Joshua Short Insurance Agency

Demby International Beauty Studio

E.L.E.V.A.T.E. Business Solutions, LLC/ ELEVATE Mobile Notary Services

CW Weddings & Event Planning, LLC

Lex Pyerse

Dobbins International, Inc.

Bracey and Associates Integrated Strategies

ALL Therapy

Cleanasaurus

Entrepreneurial Consulting

Humanitarian Helping Hands (H3)

Ignite Leadership360 formerly Ignite Your Light Coaching

E Squared Cigar Lounge
Upcoming Events

Shavonne White from Office of Supplier Diversity will sit on a panel with Damian DeStefano from the Delaware Division of Small Business for a DEBCC panel event on November 10th. The event will cover OSD Certification and how to apply for the DE Relief Grant. Sign up today at https://debcc.org.
Please Join Us!
Become a member today and let's work together to advance our economic footprint in Delaware during these unprecedented times. Sign up for our events and membership today!